About Us
Within Cooee is a travel guide to our favorite Australian Cities. Within Cooee has been online since 2005 and is continually expanding.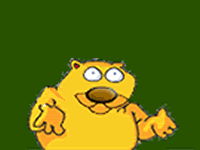 Wally Wombat was the Within Cooee mascot from 2005 to 2007. Wally retired when we redesigned the site in late 2007, we miss you Wally!
Within Cooee lists all the major attractions and anything else worth seeing  at some of our favorite cities. keep coming back to Within Cooee regularly as we add more and more cities to our guides, also keep an eye on our front page blog where we list all the good stuff coming up each week across Australia. If you think we have missed something or you have a tip for us drop us a line here.
Within Cooee is put together in Geelong, Victoria. Within Cooee was born as an expansion and sister site to our Geelong travel guide www.intown.com.au, Since then more travel and leisure websites have joined the intown network like the random travel blog www.tripandom.com, the beer blog www.hoppsy.com and the Japan travel guide www.happyjappy.com. Other sites already in the intown network include the Asian cooking guide www.wokme.com and the technology guide www.gizmohighway.com.
To learn more about us or advertising enquiries. you can check out our media site at www.intown.net.au.