The semi-nomadic Aboriginal Mouheneer tribe were the first inhabitants of the city area. Tragically in the early days of white settlement Tasmania's Aboriginal people were hunted, killed and removed so quickly that almost nothing of their history, culture or language remains.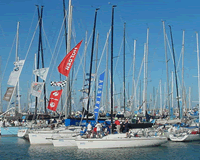 The Sydney to Hobart Yacht race is a huge celebration which happens in the week between Christmas to New Year.
In 1828 martial law was proclaimed by governor Arthur, which gave his soldiers the right to arrest or shoot on sight any Aboriginal found in an area of European settlement. During the 1820s, 30's and 40's  the remaining Aboriginals were rounded up and moved to Bruny Island. Sadly most of these died of despair, malnutrition or respiratory disease and by 1876 Tasmania's last full-blooded Aborigine had died.
In 1804 the city of Hobart was established  at the mouth of the Derwent River, the following year Tasmania's first settlement at  Risdon Cove was established consisting of a collection of tents and huts with a  population of 178 convicts, 25 marines, 15 women, 21 children, 13 free settlers and 10 civil officers.  Being one a deep water harbor the Derwent River was a key to its successful development, and Hobart Town (as it was known until 1881) was proclaimed a city in 1842.
Van Diemen's Land or Tasmania, as it is now known, was basically a penal colony in its early days, with prisons established on Sarah Island, Maria Island and Port Arthur. In 1856 transportation to the island was abandoned.
By 1827 Hobart's population had reached about 5000 and it's  thriving port was the centre for trade, not only for Tasmania but for the sealers on neighboring islands in Bass Straight, who sold their seal skins, whale oil and hides to waiting ships to Europe, China, Batavia, Singapore and the United States.
After the sealing trade had faded the port area became home to some of the country's finest ship and boat builders.
The 20th Century saw major timber industries and the Cadbury Chocolate factory set up in the region. In 1973 the Wrest Point Casino became Australia's first Casino and brought many tourists to town in seek of their fortune.
In 2004 Hobart became focus of the world with the  fairytale wedding of Hobart's  Mary Donaldson, now the Crown princess of Denmark when she married Crown Prince Frederik of Denmark.
More Hobart