Richmond is one of the oldest suburbs in Melbourne and sits on the northern edge of the CBD behind the Melbourne Cricket Ground (MCG). It has a rich history of immigrants who came to live in some of Richmond's tiny streets and work in some of the nearby factories.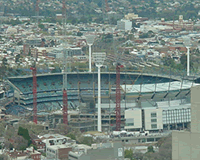 Melbourne's sporting Mecca the MCG hosts International Cricket, AFL Football and was the main stadium for the 2006 Commonwealth Games
Today Richmond's past has resulted in creating a suburb that has a dynamic vibe from the little Saigon style of Victoria Street, the shopping and dining of Swan St and Bridge Road to the abundance of Greek Restaurants as well as the many hotels and pubs that are scattered across the suburb.
It is well known that the some of best bargains in Melbourne can be found in Bridge Road and Swan Street and every bargain hunter flocks there to shop at the factory outlets and seconds stores for some of Australia's top fashions and accessories. Victoria Street has been a second home to the Vietnamese Community for quite some time and is a great place to stop by for a bowl of noodles after a hard day's shopping.
At the top of Victoria Street across the road from the famous Skipping Girl Vinegar sign is the new shopping Centre Victoria Gardens here you can find Ikea, a Cinema, a bowling alley as well as 70 other stores.
Getting to Richmond is easy as its serviced by both trams to Swan St, Bridge Road and Victoria Street and by 5 train stations around Hoddle Street and Swan street. If you take the tram get on the number 70 from Flinders Street to go to Swan Street, the number 109 from Bourke Street to go to Victoria Street or the number 48 or 75 from Flinders Street to Bridge Road. Trains leave from Flinders Street Station to go Richmond Station at the corner of Hoddle and Swan Street.
More Melbourne