St Kilda is a favorite bayside suburb which is a favorite for visitors to Melbourne.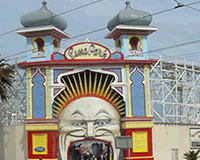 Luna Park is one of Melbourne's most love landmarks. Beautifully restored it is one of the oldest amusement parks still operating in the world
In the early 1900′s St Kilda was one of the most fashionable suburbs, with exotic mansions, hotels and guest houses being built. After World War 2 St Kilda was known for its seedy side with crime, prostitution and drugs. but more recently with the increase in housing prices and the want to live close to the city St Kilda has bounced back to being one of Melbourne's most fashionable suburbs again.
St Kilda is alive with development with apartments, new cafes, restaurants and a new exciting image. It is a mecca for tourists and Melbournians alike.
People flock to St Kilda for great cafes, bars or just people watching.
Luna Park is a must, it is a old seaside amusement park with working wooden roller coaster and many other historic rides.
Sunday St Kilda is home to one of the best art and craft markets in Australia. It attracts thousands looking for that something different.
Summer time the beach comes alive with just as many people enjoying the sights as those enjoying the sun. Thousands flock to the sand to sun bake, swim, see or be seen.
Acland Street is home to some of the best continental cake shops to be found in Melbourne, just staring in the window will be sure to put on calories.
More Melbourne